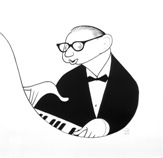 This is the Web Master of the Official Cy Walter Web Site inviting you to sign our guestbook. Ask questions, give feedback, spout opinions, tell anecdotes, recall memories, make requests or just give your general comments about Cy Walter, the man, his music and his legacy.
You can sign by sending an e-mail to markwalter@cywalter.com
We prefer sending e-mails rather than signing an on-line form simply because we want to moderate the incoming entries.  Please allow 1-3 days for actual posting.
To contact Mark Walter you can either send him an e-mail at
markwalter@cywalter.com
or contact him at:
Mark Walter
209 West High Street, #5
Milford, Pennsylvania  18337
(212) 579-5442