Cy's Letters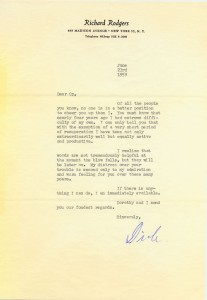 Before the advent of electronic mail, letter writing was, at its highest level, an art practiced between friends.  Unfortunately, much of the correspondence Cy sent to others is not available to us, and it seems that he retained relatively few of the items that he must have received.  Still, those that remain are wonderful, and are themselves a testament to how much Cy touched those around him.
One category of correspondence not yet included on the website (but, as time permits, to be added) is that of fan mail.  These are numerous, as Cy received his share, and many of the items are fascinating reading.  Also not included here, but placed elsewhere, are the many telegrams Cy and Cam received, themselves an unique form of correspondence.
In some ways these letters track the changes in Cy's career, and the key events in his life; for example, Richard Rodgers' 1940 letter to Maggie Case Harriman (daughter of Algonquin Hotel owner Frank Case and a successful journalist with the New Yorker magazine) is a revealing reflection of how Rodgers came to learn of Cy's artistry.  Indeed, in a real sense this letter presages what would become a lifelong friendship and successful musical collaboration between the two men.  (Rodgers' fondness for Cy, and his admiration of Cy's talent, was underscored by his willingness to be pictured with Cy on the cover of Cy's Rodgers Revisited album.  Rodgers was usually reluctant to be so photographed and did so in very few instances, making his choice here all the more meaningful.)
Later letters reveal the depth of friendship and support for Cy during his troubled last decade or so, when he struggled with operations for the cancer that ultimately, some fifteen years after its discovery, led to his untimely demise.  (Though Cy essentially ceased his cigarette smoking during this period, his very work environment ensured that he continued to continuously breathe secondhand smoke.)  Some writers, such as Richard Rodgers and Oscar Hammerstein II, expressed not only sympathy but true empathy, having been through similar operations themselves.  And finally, one or two letters reveal the loss individuals felt at Cy's passing, in 1968, at age 52.
List of Cy's Correspondents (as thus far here included)
Richard Rodgers
Harold Arlen
Oscar Hammerstein, II
Maggie Case Harriman
Donald Albert Smith
Vincent Impellitteri
Arthur Godfrey
Cy Walter to Flossie Walter
Ruth Bassett to Flossie Walter
Bayes Music Corporation
Richard Rodgers To Maggie Case Harriman 05.06.1940
Richard Rodgers To Cy Walter 06.23.1959
Richard Rodgers To Cy Walter 07.16.1962
Richard Rodgers To Maitland T. Ijams 08.28.1968
Harold Arlen To Cy Most Deeply Appreciative Note March, 1965
Harold Arlen General Letter Of Gratitude 03.28.1965
Oscar Hammerstein II To Cy Walter 06.29.1959
Maggie Case Harriman To Douglas Fairbanks 05.10.1940
Donald Albert Smith to Cy Walter 04.12.1953
Vincent R. Impellitteri to Cy Walter 12.12.1950
Arthur Godfrey To Cy Walter 07.13.1959
Cy Walter To Florence Greaves Walter 08.30.1951
Ruth Bassett To Florence Greaves Walter 09.08.1950
Bayes Music Corporation To Florence Greaves Walter 10.04.1961