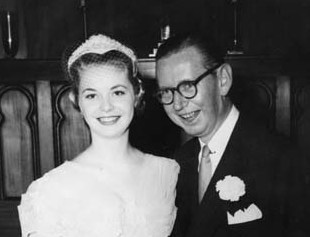 After a long battle with lung cancer, Cam Walter LaGennusa, Cy's widow, passed away at age 78 on 20 October 2010.  Cam was the most wonderful mother for which a son could hope, and was, as more fully explained in the "About This Site" page, the ultimate savior, protector, and progenitor of the materials shared here.  Before her marriage to Cy and her subsequent homemaker and parenting roles, Cam was a professional model in New York City.  Cam was also a true cabaret professional, a discerning connoisseur of the wonderful music, people, and places that this unique art form engenders.  In this context, she was familiar with almost all of the luminaries of the New York City Café Society world, counting as her close friends artists such as Mabel Mercer, Alec Wilder, Bart Howard, George Shearing, Bobby Short, along with many others.  Cam was truly proud of Cy's musical genius, and in a crucial sense exhibited her love for him and his artistry by carefully retaining all the amazing materials about Cy's career and world which the Walter family is now privileged to share on this site.
Cam is survived by her husband of over three decades, Joseph LaGennusa; her daughters, Victoria and Daphne; her son, Mark; and her grandson, Christian. Cam's family and friends deeply mourn her passing.  Should anyone have any memories of Cam that they may wish to share with other visitors to this site, please send them by e-mail to me at markwalter@cywalter.com .
The Cam Walter Memorial Celebration was held on 17 October 2011 at the Algonquin Hotel's Oak Room.  Attended by family and friends, the event was a musical zenith in honor of a woman for whom music was essential to life.  The stellar performers included Doug Bowles, Joyce Breach, Eric Comstock, Barbara Fasano, Vince Giordano, Alex Hassan, Mark Hummel, Peter Mintun, Steve Ross, Daryl Sherman, KT Sullivan, Marlene VerPlanck, Ronny Whyte, Julie Wilson, and Bill Zeffiro.  Unbeknownst then to all, this was the last private event to be held in the Oak Room; an irony in light of Cy Walter's having opened the room as the Supper Club on 29 November 1939 with Greta Keller.  Nonetheless, that magical event did justice both to Cam Walter's love for excellent music, and to the room's existential and historical significance in hosting so much of it.
Mark Walter
September, 2015