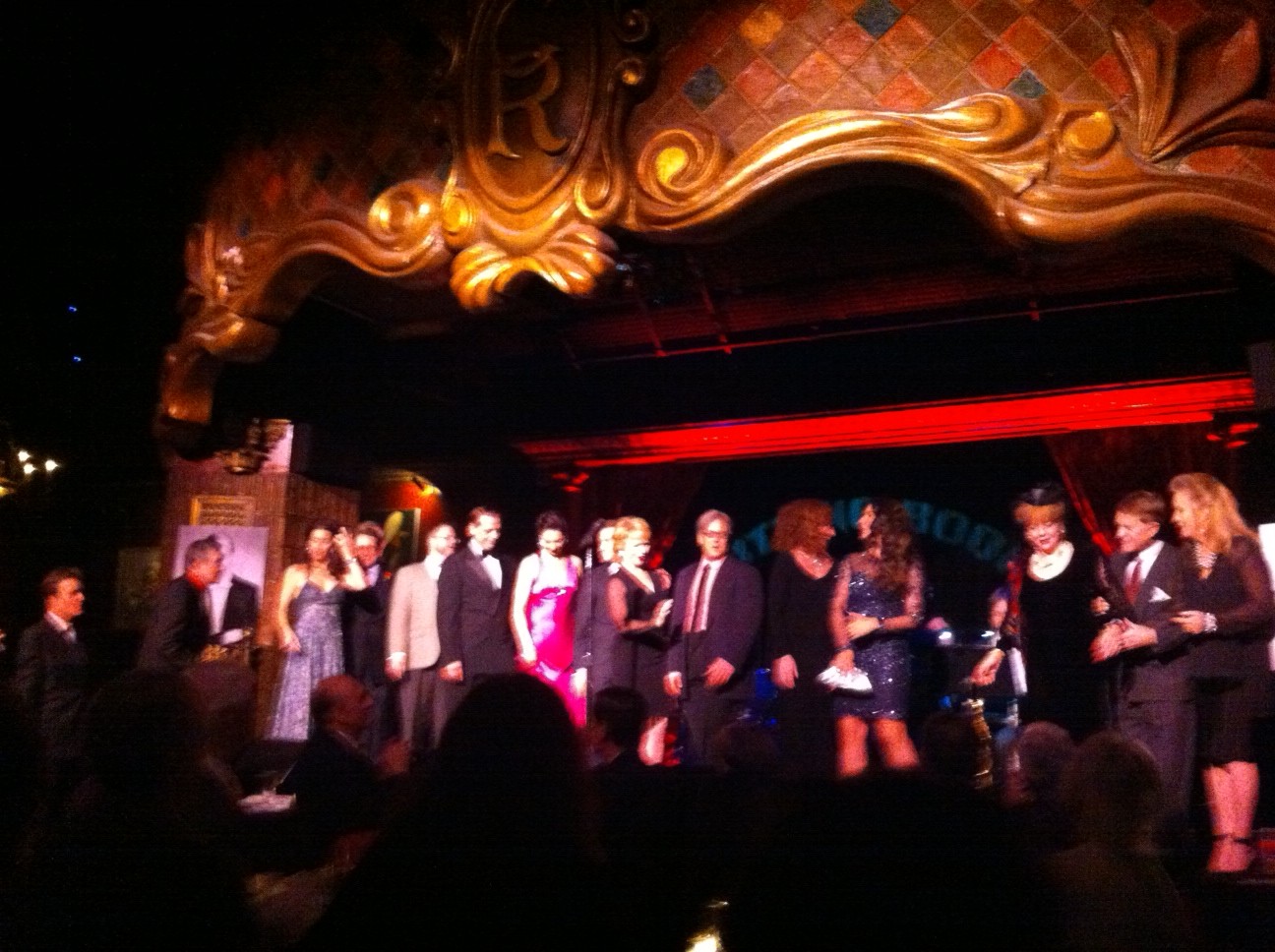 This historic event went superbly, with a packed house, a joyously-entertained audience, and incredible performers who showcased Cy's music brilliantly.  Four excellent reviews you may wish to check out are that of Alix Cohen's, on Broadway World; that of Peter Haas' on TheaterPizzazz; that of  Linda Amiel Burns on theaterscene.com  (replete with terrific photos by Maryann Lopinto); and that of Marilyn Lester for Cabaret Scenes Magazine.  You may also view the amazing performance of Cy Walter's original composition, "The Astaire", as created by vocalist Steve Ross, The Cy Walter Celebratory Orchestra, and superb dancers Heather Gehring and Lou Brockman, at The Cy Walter Foundation's YouTube Channel, or by going to https://www.youtube.com/watch?v=e2wgxqpAhYo.
Below is a superb video of the Centennial Celebration created by the talented Michael Stever and incorporating the excellent multi-tracked audio recordings created by expert audio engineer Rubin Nizri.  Ideally, this should be watched in high definition mode.  And below this video is another video of a separate slideshow that Richard Behrens crafted from images taken of the event by professional photographer Maryann Lopinto.  We've placed these movies on The Cy Walter Foundation's You Tube channel, with their direct links respectively being https://www.youtube.com/watch?v=Nxxzj7273E8 (this being the actual show video, in its entirety); and https://www.youtube.com/watch?v=7v3H4Z5hVA4 (this being the photo slideshow video).  Or you may access them directly on the video links below.
As noted in these two videos, the awesome performing cast for this event included Doug Bowles; Lou Brockman; Eric Comstock; Jed Distler; Barbara Fasano; Musical Director Tedd Firth; Heather Gehring; Jeff Harnar; Alex Hassan; Jenny Lin; Peter Mintun; Marissa Mulder; Karen Oberlin; Steve Ross; Jennifer Sheehan; KT Sullivan; Stacy Sullivan; Ronny Whyte; and The Cy Walter Celebratory Orchestra.  This amazing orchestra was comprised of the following musicians:   Saxophones:  Marc Phaneuf; Dan Levinson; Mark Lopeman; Kurt Bacher; Trumpets:  Brian Pareschi; Evan Barker; Irv Grossman; Trombones: Matt Musselman; Mike Boscarino; Piano: Tedd Firth; Bass:  Tom Hubbard; and Drums:  Peter Grant.  We have also, in segments created by Richard Behrens, put up individual performer videos on the Cy Walter Foundation's YouTube Channel.  Enjoy! 
The Initial Announcement of the Show:  Don't miss this once-in-a-lifetime event, celebrating the musical genius of Cy Walter (1915-1968) and Harbinger Records' release of its superb two-CD set of true rarities, entitled Cy Walter, Pianist/Cy Walter, Composer: Sublimities, Vols. 1 and 2  [(distributed through Naxos and Amazon worldwide, and available through  www.harbingerrecords.com)].  [Please note:  Post-release of the CDs we have discovered an error in the vocal artist attribution on one of the song tracks: Sublimities CD Vol. 2, Track 18 ("Getting To Know You") is listed as being sung by Marlene Dietrich; when the actual vocalist is Greta Keller.  Our apologies; this will be corrected in future production runs of the CD.]
Pianistic and vocal pyrotechnics to be performed by a large roster of awesomely-talented cabaret luminaries, focusing upon Cy's unparalleled solo and duo piano arrangements, along with up to two dozen of his gorgeous original song compositions. Virtuousic accompaniment by the twelve-piece orchestra of The Cy Walter Celebratory Orchestra, with musical direction by the inimitable Tedd Firth. Join us on Sunday, the 27th of September, 2015 from 6:00 to 9:00 p.m. (doors open for drinks/dinner at 5:00 p.m.) at The Cutting Room, 44 East 32nd Street (between Madison and Park Avenues), Manhattan. Tickets $30 in advance, $35 at the door, with a $20 food and drink minimum; available at www.thecuttingroomnyc.com, or call 212-691-1900. Seating is limited, and this unique event, indubitably one for the ages, will not be repeated. So purchase now, and embark with us upon a delightful 21st Century renaissance of mid-20th Century musical wonders!

Mark Walter
July, 2015